Taxi from Vienna to Modling
Due to increased demand, inquiries must be made at least 3 hours before departure.
For short-term orders, please call us at
01/934 61 41
.
Note: Sometimes emails unintentionally end up in the spam folder. Please check there too.
From Vienna to Mödling – to the hiking paradise of the Vienna Woods
The small town of Mödling with around 20,500 inhabitants is located 16 km south of Vienna. Taking the fastest route, the A23, a taxi ride from Vienna to Mödling takes half an hour. Whether you are traveling to Mödling privately or on business there, travel in the most comfortable way and book an intercity trip with us at a low fixed price. Of course we also offer all our other driving services between Vienna and Mödling. Do you have important documents or packages to send? Then use our messenger service. We always transport your sensitive documents and goods reliably and quickly by taxi from Vienna to Mödling. Or are you planning a departure or landing at Schwechat Airport? Then you can use our practical airport transfer. Perhaps you also need a shuttle service because you want to transport larger groups of people by taxi from Vienna to Mödling and back. We are prepared for all transport requests and will be happy to make you the right offer.
By taxi from Vienna to Mödling and the Föhrenberge nature park
The Föhrenberge nature park stretches from Mödling to the southern outskirts of Vienna, in which extensive forest areas alternate with rough meadows and dry grassland. Rare animal species such as red foxes, ground squirrels and green lizards are native here, and the peculiar flora of the area is characterized by the characteristic black pines, so-called Parapluie trees. The many well-signposted hiking and biking trails in the nature park lead you to the interesting sights in the region, to Liechtenstein Castle, to the Hussar Temple and to the legendary springs in Kaltenleutmachen. Perhaps you would like to have a taxi take you from Vienna to Mödling for a business appointment and plan a relaxing bike or hiking tour for the way back. If you stay in the city for a longer period of time, you can also go on beautiful hikes in the vicinity, for example to the Black Tower or to the Mödling castle ruins. Take a taxi with us from Vienna to Mödling and stay independent. You don't need to plan a circular hike to get back to your car. Simply choose the most beautiful route and let us pick you up again at the desired meeting point.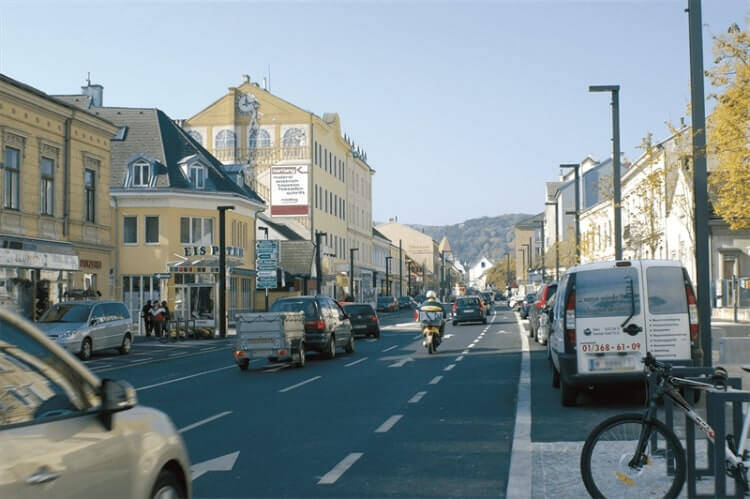 Sights in Modling
The small town also has a lot to offer in terms of culture. The municipal theater inspires adult audiences with 100 performance days per season and there is the MÖP puppet theater for children from the age of three. The folklore museum offers insights into life in the region in the past, and plant lovers can expand their knowledge of vegetable plants, aromatic and medicinal herbs in the adjoining show garden. If you want to go shopping, you can browse the numerous small boutiques and specialist shops in Mödling, because here the pedestrian zone is not yet dominated by well-known chains, but by classic retailers. It is best to plan your trip by taxi from Vienna to Mödling for the end of July or September, because then you can taste the current wines of the region at the wine festival or on the pleasure mile and at the Weinherbst.

How about a hiking holiday with the family or a wine tour with friends? Would you like to be taken from Vienna to Mödling by taxi and return by bike or in hiking shoes? Tell us about your travel wishes! We will find exactly the right transport concept for you at a reasonable price.