Taxi from Vienna to Krems
Due to increased demand, inquiries must be made at least 3 hours before departure.
For short-term orders, please call us at
01/934 61 41
.
Note: Sometimes emails unintentionally end up in the spam folder. Please check there too.
From Vienna to Krems - the pearl in the Wachau Valley
The city of Krems an der Donau with 25,000 inhabitants is located about 70 km west of Vienna. A taxi ride from Vienna to Krems via the A22 and S5 takes a good hour. Krems is not only known as the commercial, school and university center of the region, but also a popular holiday destination for nature lovers, art connoisseurs and wine lovers. If you travel by taxi from Vienna to Krems, you should not miss a boat tour on the Danube with wine tasting! But perhaps you are not only on the road to relax, but also have to attend business appointments. Whatever you plan to do in Krems, opt for a taxi ride from Vienna to Krems and enjoy the luxury of your own chauffeur. While your driver concentrates on the traffic, you have free capacity for your work. In our comfortable business vehicles you can read, make phone calls or write e-mails undisturbed and thus save a lot of time. With our reliable driver service, you will always arrive on time and relaxed.
Art and culture city of Krems on the Danube
Krems has two historic town centers that are connected by the so-called art mile. The entire medieval old town is part of the Wachau UNESCO World Heritage Site. It is best to start your walk at the city's landmark, the Steiner Tor, and explore the pedestrian zone with all its small side streets. Between inviting localities and shops you will come across numerous churches worth seeing and the medieval Gozzoburg. Several cultural institutions are lined up along the art mile, the first port of call is the State Gallery of Lower Austria with works by Egon Schiele and interesting changing exhibitions. In the nearby Kunsthalle Krems, which is connected to the Landesgalerie by an underground passage, more recent works from the period after 1945 are on display, along with sculptures and paintings, as well as spectacular light and video installations.

But if you travel comfortably by taxi from Vienna to Krems, you can not only discover the city center, but also go on hikes or bike tours in the region. Set off spontaneously to the most beautiful areas and we will pick you up again at the desired meeting point. For example, hike to the Ferdinand-Warte or to the Schreckburg and enjoy the wonderful view of the Danube and the city. Another popular destination is the castle ruins of Dürnstein, a good 6 km away, which you can climb up to via a forest path.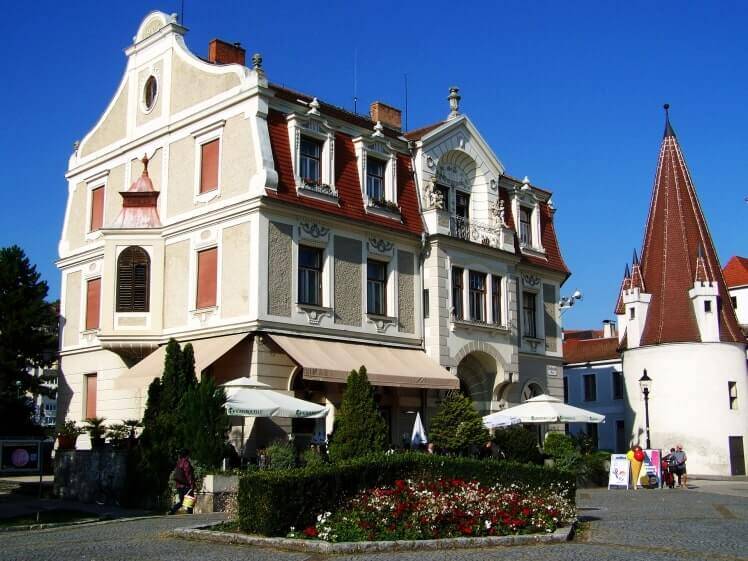 By taxi from Vienna to Krems – this is how traveling is fun
With us you can not only travel by taxi from Vienna to Krems, but also to all other cities and regions in Austria. We offer you overland trips at fixed prices and give you the choice between several convenient payment methods. Just get in and don't worry about the financial side. Pay in cash in the taxi from Vienna to Krems, by card or afterwards on account. Our well-trained and experienced chauffeurs always pay attention to your safety and ensure that you feel completely at ease. Whether you want to travel alone or in a group, we provide the right vehicles and drivers for every occasion and every number of people. We also take care of shuttle transfers, trips to and from all airports in Austria and courier services. Book with us and look forward to your journey by taxi from Vienna to Krems!